Difference Between Sutures and Stitches Q&A
Sutures may also be called stitches which hold the edges of an open wound, or surgical incision together. They are an important aspect to the healing process, as it helps you heal the wound or incision faster. For more information, call Fast Aid Urgent Care or join the virtual line. We have convenient locations to serve you in Bulverde Rd San Antonio TX, Bastrop TX, Alamo Ranch San Antonio TX, Leon Springs TX, New Braunfels TX and La Grange, TX.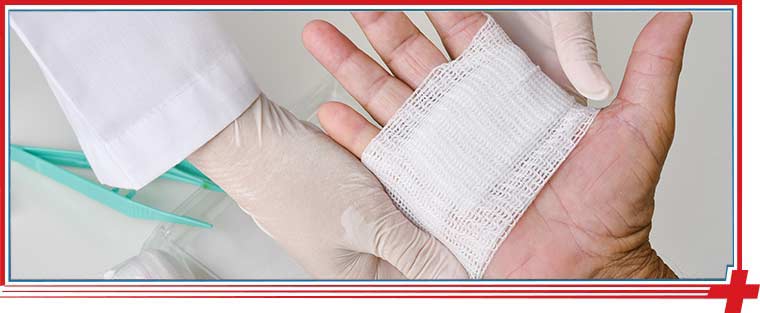 Table of Contents:
What are the 3 types of sutures?
What are sutures vs stitches?
How long do sutures take to heal?
How do you take care of sutures?
What are the 3 types of sutures?

There are two varieties of sutures available that a doctor may use: absorbable and non-absorbable.

Absorbable sutures use sutures that are used for specific wounds. The enzymes found within the tissues of our bodies will naturally break them down and digest them.

Non-absorbable sutures need to be removed by a doctor within the recommended number of days or weeks following your sutures appointment, or they will be left in permanently. There are non-absorbable sutures that can also be found at local drug stores as well, as they do not require a doctor to apply or remove them, but they can often be used at a medical clinic to fix broken skin.

The materials that are used in the sutures will vary, but they are made up of either natural or synthetic materials. A few examples of the materials used in sutures include:

– Nylon
– Polypropylene
– Silk
– Polyester

The types of sutures that are available at each medical clinic will be based on these available:

– Gut suture – Gut sutures are a natural type of suture that is often used to repair internal soft tissue wounds, and is one of the most commonly used sutures in gynecological surgeries.
– Polydioxanone – Polydioxanone is a synthetic suture that is often used for soft tissue repairs, including abdominal closures.
– Poliglecaprone – Poliglecaprone is another synthetic suture that is often used for general use in any type of soft tissue repair medical appointments. It should be noted that this type of suture should never be used in cardiovascular procedures.
– Polyglactin – Polyglactin is a synthetic braided suture that is great for repairing facial or hand lacerations.
What are sutures vs stitches?

Sutures are used to close open wounds, and they are available in dissolvable or non-dissolvable, they can control the bleeding, and make it difficult for any bacteria to enter the body through the closed wound while ensuring tissues on each side of the wound stay sealed together so they are able to naturally reconnect.

While stitches and sutures are often used as the same, in medical terminology, they are known as different things.

Sutures are threads or strands which help to close up an open wound, while stitches are the actual process of closing up the wound. However, the term suturing can also be commonly used instead of stitching.
How long do sutures take to heal?

The length varies for how long dissolvable sutures will disappear. Most types of sutures will begin to be absorbed into the body or fall out within a week or two after they've been applied. However, there are others that can last up to several months.

Your doctor should let you know how long dissolvable sutures will take to dissolve, or when to come back to have non-dissolvable sutures removed. If not, you can ask your doctor for a more specific timeframe.

If your wound has fully healed, and the stitches are still bothering you, you can contact an urgent care clinic or your general physician to help remove them, rather than waiting for the dissolvable sutures to dissolve completely.
How do you take care of sutures?

Often the physician who applied the sutures will provide you with after-care instructions; however, if you lost or forgot the after-care instructions, you can take care of your sutures by:

– Keeping the area dry, especially for the first 24 hours
– Keep the area clean, especially the wound
– Let the healing process go through its steps
– Monitor for infection
– Use over-the-counter pain reliever if necessary
– Look after the scar after the sutures come out with massage, moisturizing it, protecting it against the sun

If you need sutures or need your sutures removed, contact our clinic today. We serve patients from Bulverde Rd San Antonio TX, Windcrest TX, Selma TX, Bastrop TX, Paige TX, Smithville TX, Alamo Ranch San Antonio TX, Leon Valley TX, Helotes TX, La Grange TX, Rabbs Prairie TX, Halsted TX, Leon Springs TX, Fair Oaks Ranch TX, Cross Mountain TX, New Braunfels TX, Hunter TX, Zorn TX and surrounding areas.