Pregnancy Testing Clinic Q&A
If you think you may be pregnant, come to Fast Aid Urgent Care and our friendly staff can provide you with all the information you need, including testing. For more information, call us. No need for an appointment, you can just walk in. We have convenient locations to serve you in

Bulverde Rd San Antonio TX,

 

Bastrop TX,

 

Alamo Ranch San Antonio TX,

Leon Springs, TX New Braunfels TX and

La Grange, TX.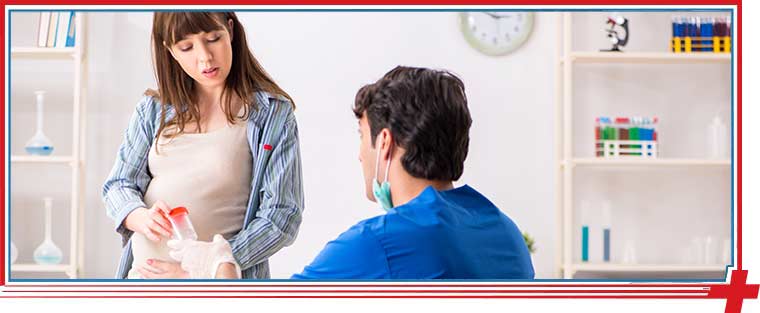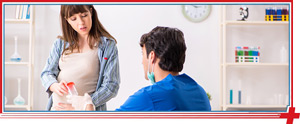 Table of Contents:
Can I go to an Urgent Care for a Pregnancy Test?
How soon can I take a pregnancy test?
What tests are done to check for pregnancy?
How can I check if I'm pregnant without a pregnancy test?
As exciting as having a baby can be, it can also be a bit nerve-racking. Bringing a new life into this world is a beautiful thing, so we want to make it as easy as possible to determine your pregnancy. Come to Fast Aid Urgent Care today to get your pregnancy test, in a clean, safe and comfortable environment.
Can I go to an Urgent Care for a Pregnancy Test?

At Fast Aid Urgent Care, we offer pregnancy testing. We have a safe and clean facility with confidential and discreet testing. Our tests are accurate and professional, so you can be sure of the precision of the results! Breathe easy, come to Fast Aid Urgent Care for your pregnancy test today!
How soon can I take a pregnancy test?

It depends what test you're using. If you take them on the day your period is due, most pregnancy tests are accurate. However, some tests are more sensitive, and can tell you sooner. Check the instructions or ask your physician about your particular test.
 
Some tests are sensitive enough to give you an accurate result as soon as eight days after conception. But it's important to note that conception doesn't necessarily happen on the day you have sex.
 
While waiting for an egg to be released, your partner's sperm can live in your body for up to seven days. You could conceive up to a week after having sex, depending on when you ovulate. In this situation, it would still take about two weeks until after you've had sex for a very sensitive pregnancy test be able to give you an accurate result.
 
If you're not sure when you ovulate, before taking a test it's best to wait for three weeks after having sex, or until your period is due, just to be on the safe side.
What tests are done to check for pregnancy?

Pregnancy tests detect a hormone called human chorionic gonadotropin (HCG) in a sample of urine or blood. HCG is produced by the placenta and is found in pregnant women. The amount of HCG produced during early pregnancy doubles every 2-3 days and peaks at 7-10 weeks. You can be tested for pregnancy with an over-the-counter pregnancy test or in your healthcare provider's office.
How can I check if I'm pregnant without a pregnancy test?

Common early pregnancy symptoms can include:

A missed period: The most common and clear-cut sign of pregnancy is a missed period. Once conception has happened, your body produces hormones that stop ovulation and the shedding of the lining of your uterus. This means that you won't have a period again until after the baby is born.

Frequent trips to the bathroom: Before you even miss a period, you may notice that you have to urinate more often. This actually happens because you have more blood than before. During pregnancy, your body's blood supply increases. Your kidneys filter your blood and remove the extra waste. This waste leaves your body as urine. The more blood in your body, the more you will have to urinate.

Fatigue: Many women feel extremely fatigued early on in pregnancy. This sign of pregnancy happens because of high levels of the hormone progesterone. Similarly, to other early pregnancy symptoms, fatigue tends to get better in the second trimester. However, it does come back in the third trimester for many women.

Morning sickness: Despite its name, this pregnancy symptom can happen at any time of the day or night. Nausea can happen at about two weeks into a pregnancy or it can start several months after conception. Not everyone experiences nausea and there are various levels of nausea. About half of pregnant women have vomiting.

Sore (and enlarging) breasts: Your breasts can become very tender during pregnancy. The soreness may be much like the way breasts feel before a period, only more intense. Your nipples might also begin to enlarge and appear darker. Thankfully, the soreness goes away once your body gets used to the hormones.
 
If you or someone you know believes they might be pregnant, come to Fast Aid Urgent Care today to get your accurate pregnancy test! We have a clean and comfortable facility, with discreet and respectful doctors. Contact our office today to get in touch with a specialist. To join the virtual line, call us or visit us online! We serve patients from Bulverde Rd San Antonio TX, Windcrest TX, Selma TX, Bastrop TX, Paige TX, Smithville TX, Alamo Ranch San Antonio TX, Leon Valley TX, Helotes TX, La Grange TX, Rabbs Prairie TX, Halsted TX, Leon Springs TX, Fair Oaks Ranch TX, Cross Mountain TX, New Braunfels TX, Hunter TX, Zorn TX and surrounding areas.