Heartburn Treatment Specialist Q&A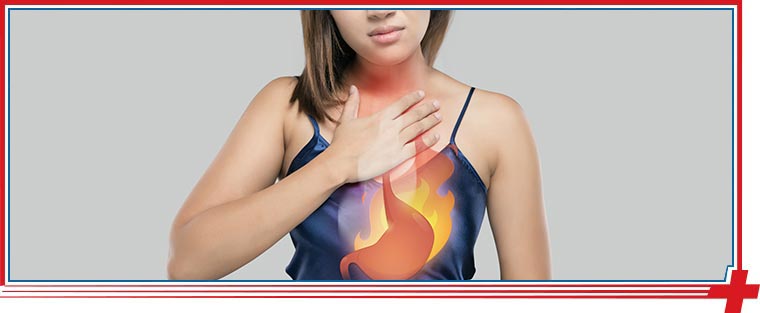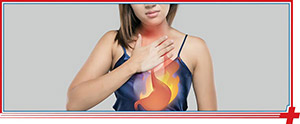 Table of Contents:
What does heartburn feel like?
Why do people get heartburn?
What are the symptoms of heartburn?
How do I get rid of my heartburn?
What does heartburn feel like?

Heartburn is most often described as a burning sensation in the chest, behind the breastbone. This burning may feel painful and can be worsened by lying flat, bending over, or eating a meal. The pain or discomfort may rise into your throat or neck and is often accompanied by a bitter or acidic taste in the back of the mouth.

Heartburn attacks are common and harmless when only occasional, and the feeling may last for a few minutes up to a few hours. Certain foods, beverages, medications, and various behavioral habits, such as night eating and smoking, can trigger heartburn.
Why do people get heartburn?

The stomach is known to house newly eaten foods and begin chemical breakdown using a mixture of hydrochloric acid, potassium chloride, and sodium chloride. Due to the presence of hydrochloric acid, the stomach's environment has a low pH of around 1.5 – 3.5. This means the digestive fluid mixture is highly acidic and works to dissolve the food we eat.

Typically, the action of gravity combined with muscular rings in the digestive tract keeps this acidic mixture in the stomach, though sometimes these functions falter. When eating, food passes from our mouth to our stomach via a long muscular tube called the esophagus. At the end of the esophagus, a muscular ring called the lower esophageal sphincter (LES) opens and closes to allow food to enter our stomach and gas to exit it.

This sphincter may inappropriately relax, allowing contents of the acidic stomach environment to back up into the esophageal tube, causing the signs and symptoms associated with heartburn. Over time, this sphincter may also become weak, causing more frequent bouts of heartburn. Frequent or severe heartburn may indicate gastroesophageal reflux disease (GERD).

Heartburn is more strongly felt when lying down or bending over due to the change in your center of gravity. If your lower esophageal sphincter is already weakened or opened, laying down or bending over easily allows the flow of stomach acid to back up into the esophagus. Heartburn is also a common complaint during pregnancy. This occurs because of the increased concentration of the hormone progesterone, which can relax the LES. Problematic relaxation of the LES may be seen in patients who smoke or are overweight.

A hiatal hernia may also be the cause of heartburn. In this condition, the stomach enlarges and bulges outward from the diaphragmatic hole where the lower esophageal sphincter is usually found. A higher LES and larger stomach can increase the risk of acidic backflow. Finally, certain medications, such as anti-inflammatory or pain relievers, can further relax the digestive muscles.
What are the symptoms of heartburn?

The chief complaint that defines heartburn is a burning feeling in your chest that may rise to your throat. It may be painful, feel like pressure, and is likely to worsen when lying supine (on your back) or after a meal. A bitter or acidic taste in the back of the mouth may also be present. Acidic foods, such as citrus fruits, may trigger an episode as it increases the acidic content of the stomach. Fried food or foods with high-fat content are harder to break down and slow the digestive process, increasing the risk of backflow into the esophagus. In addition, spicy foods often irritate the digestive tract and worsen the "burning" sensation.

Other foods and beverages that can cause or worsen heartburn include onions, garlic, peppermint, chocolate, and carbonated, alcoholic, or caffeinated drinks. Symptoms may become more severe over time, and a doctor should be alerted if you experience persistent nausea, vomiting, difficulty swallowing (dysphagia), or unintentional weight loss due to decreased appetite.
How do I get rid of my heartburn?

When infrequent and mild, heartburn is often not a cause for concern, you may still want to take steps to prevent it or treat flare-ups. The most effective way to do so is to change behavioral patterns that increase your risk of heartburn. To start, it is recommended that you do not lie down for 3 hours after eating a meal and reduce snacking during the night. If you experience heartburn at night, it may be helpful to sleep at an incline, with your head raised around 6 inches above your feet.

If this position isn't a comfortable option for you, favor sleeping on your left side rather than your right. This way, contents will settle in the left-sided curvature of the stomach without irritating the LES. If you experience heartburn during exercise, try to wait at least two hours after a meal before engaging in an activity. Meals should be eaten in appropriate portions at a reasonable rate, do not overeat too fast. It is best to begin a food journal to determine what foods and drinks trigger heartburn episodes and should be avoided.

In your personal life, you should try to reduce addictions that may be contributing to your symptoms, such as smoking, alcohol use, or coffee drinking. Stress and anxiety can also be contributing factors and should be eased. Alternatively, some medications are available to help your symptoms. Antacids reduce the amount of acid in your stomach by neutralizing it. By raising the pH of the stomach to a more neutral stance (pH of 7 is neutral), the acidic contents will not cause as much irritation. Acid blockers, such as Histamine H2 blockers, are used to reduce the amount of acid produced in the stomach in the first place. Proton pump inhibitors (PPI) work towards the same goal but are more effective in chronic cases.

At Fast Aid Urgent Care, an outstanding medical team can discuss your concerns about heartburn, perform any necessary testing to provide a diagnosis, and offer treatment options to help ease your discomfort. We serve patients from Bulverde Rd San Antonio TX, Windcrest TX, Selma TX, Bastrop TX, Paige TX, Smithville TX, Alamo Ranch San Antonio TX, Leon Valley TX, Helotes TX, La Grange TX, Rabbs Prairie TX, Halsted TX, Leon Springs TX, Fair Oaks Ranch TX, Cross Mountain TX, New Braunfels TX, Hunter TX, Zorn TX and surrounding areas.