Earwax Removal Clinic in San Antonio, TX
Ear wax already exists in our ear to protect it from germs but sometimes the excessive build-up of earwax can cause a blockage which can lead to earaches, itching, difficulty hearing, and more. Fast Aid Urgent Care offers medical earwax removal services so you can get your ear clean safely. Learn more about the benefits of earwax removal today. For more information, please contact us or book an appointment online. We have convenient locations to serve you in Bulverde Rd San Antonio TX, Bastrop TX, Alamo Ranch San Antonio TX, Leon Springs TX, New Braunfels and La Grange, TX.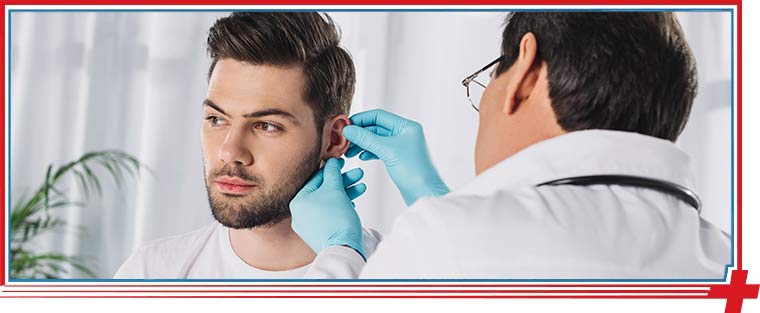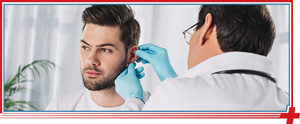 Table of Contents:
What causes excessive earwax?
Is it worth removing earwax?
What does an ENT do to remove earwax?
How do you know if your ear is full of wax?
What causes excessive earwax?

Excessive earwax build-up can occur when the natural production of earwax, which serves to keep the ears clean and free of germs, becomes too much and causes a blockage. While earwax usually exits the ears without causing any issues, in some cases, it can accumulate and obstruct the ear canal.

Excessive earwax build-up can have various causes. Some individuals are more prone to blocked ears due to their natural tendency to produce a higher amount of earwax. Additionally, factors such as naturally hard or dry earwax, narrow or hairy ear canals, and aging can contribute to an increased risk of accumulating too much earwax.

As people grow older, earwax tends to become drier, which can lead to blockages. Furthermore, the presence of bony growths in the outer part of the ear canal can obstruct the flow of earwax.

It is worth noting that inserting objects into the ear canal can also cause earwax blockage. Practices like frequently using cotton buds, wearing ear plugs, or using hearing aids can disrupt the natural process of earwax removal and contribute to the build-up of earwax in the ear canal. It is advisable to avoid inserting such objects into the ears to prevent the risk of blockages and related complications.
Is it worth removing earwax?

The decision to remove ear wax depends on individual circumstances, but in certain cases, it is worth considering professional ear cleaning. Excessive earwax can pose risks, and if you notice signs of wax buildup, seeking professional assistance may be beneficial. A feeling of clogged or blocked ears could indicate the presence of excessive earwax. While wax plays a vital role in maintaining ear hygiene, an excess amount can lead to problems.

Blocked ears often coincide with increased wax production or accumulation, which can be effectively addressed through professional cleaning techniques performed by a hearing care provider. Pain in the ears can sometimes be associated with infections, but it can also be a symptom of excessive earwax. When there is an excessive build-up of wax, the natural cleaning mechanisms of the ears may struggle to manage it, causing the wax to harden.
What does an ENT do to remove earwax?

An ear, nose, and throat (ENT) specialist will use one of three treatment options to remove ear wax.

One approach utilized by ENT specialists is the use of a curette, a small scoop-shaped instrument, to delicately extract the earwax from the ear canal. This method demands precision and expertise to ensure the gentle removal of the wax without causing any harm or pushing it deeper into the ear.

Another technique employed by ENT specialists is ear irrigation, where warm water or a saline solution is carefully directed into the ear canal. This aids in the softening and loosening of the earwax, facilitating its flushing out from the ear.

A third method commonly employed by ENT specialists involves gentle suctioning. Using a specialized suction device, often in conjunction with a microscope or magnifying lens, the ENT specialist carefully extracts the earwax from the ear canal, ensuring a controlled and effective removal process.
How do you know if your ear is full of wax?

Earwax serves as a beneficial and natural defense mechanism for your body. It cleans, coats, and protects the ear canal by trapping dirt and inhibiting the growth of bacteria. However, when earwax buildup becomes problematic, it can be safely removed by your healthcare provider through simple procedures.

Various signs and symptoms may suggest the presence of earwax blockage. These include experiencing an earache, a sensation of fullness within the ear, hearing ringing or other noises (tinnitus), experiencing hearing loss, feeling dizzy, having a persistent cough, feeling itchiness in the ear, noticing an odor or discharge from the ear, or even experiencing pain or an infection in the ear.

Earwax removal is available at Fast Aid Urgent Care. Call us to book an appointment. We serve patients from Bulverde Rd San Antonio TX, Windcrest TX, Selma TX, Bastrop TX, Paige TX, Smithville TX, Alamo Ranch San Antonio TX, Leon Valley TX, Helotes TX, Leon Springs TX, La Grange TX, Rabbs Prairie TX, Halsted TX, Hostyn TX, Mullins Prairie TX, Ammannsville TX, New Braunfels TX, Hunter TX, Garden Ridge, TX and surrounding areas.