Ingrown Toenails Treatment Doctor Q&A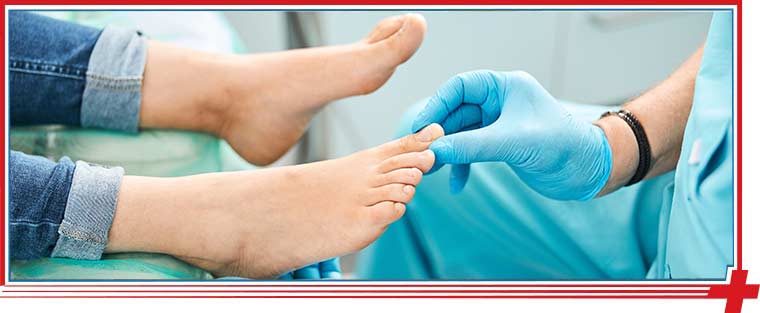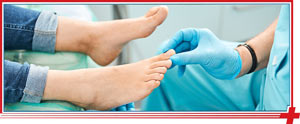 Table of Contents:
How do you fix an ingrown toenail?
What will happen if you leave an ingrown toenail untreated?
How long does it take for an ingrown toenail to go away?
When should I be concerned about an ingrown toenail?
How do you fix an ingrown toenail?

If home remedies are not helping the ingrown toenail, our medical treatments can help, a few of these fixes include:

– Lifting the ingrown toenail
If the ingrown toenail is just minor, we may choose this method by carefully lifting the edge of the ingrown toenail and placing a piece of cotton, splint, or dental floss under it. This will separate the nail so it doesn't overlay on the skip and will allow the nail to grow out correctly above the edge of the skin. This process can take anywhere from 2 to 12 weeks for the ingrown toenail to completely grow out properly. We may also provide you with at-home care to continue while it grows out.

– Taping the ingrown toenail
During this method, our physicians will pull the skin away from the ingrown toenail with medical tape.

– Placing a gutter splint under the ingrown toenail
This is another method that will have the physician use numbing agents to numb the toe so they are able to slip a tiny slit tube under the ingrown toenail. This splint will stay in place until the nail has grown above the edge of the skin. This particular method will help ease the pain from the ingrown toenail.

– Remove a part of the ingrown toenail
If you are dealing with a severe ingrown toenail, with noticeable inflamed skin, pus, and pain, our physician will numb the toe and trim or even fully remove a portion of the ingrown toenail to allow it to grow out correctly. It can take 2 to 4 months for the toenail to completely grow back.

– Remove the ingrown toenail and tissue
If you are repeatedly noticing ingrown toenails occurring on the same toe, our physicians will ultimately suggest you remove a portion of the nail along the underlying tissue to prevent any growth from coming back. To ensure this happens, a laser, chemical agent, or another method will be used to allow the nail to stop growing back.
What will happen if you leave an ingrown toenail untreated?

Many try to treat ingrown toenails themselves with home remedies, as they either cannot make it into the clinic for treatment, do not have the funds, or feel uncomfortable or embarrassed about going to see a medical professional about an ingrown toenail, whatever the reason may be, many of these natural home remedies shouldn't be done for long periods of time. When treating an ingrown toenail, you need to ensure it is taken care of as soon as possible before more serious complications ensue.

Leaving ingrown toenails untreated can turn into a very serious issue, if left untreated, ingrown toenails can cause infections that spread to the bone, where you can develop issues like gangrene, which is known as decay and death of tissue. Diabetes is another serious risk for foot disorders. This is why it is so important to have your ingrown toenails treated as soon as possible.
How long does it take for an ingrown toenail to go away?

Often, many physicians will prescribe antibiotics if you are having an infected ingrown toenail. They may also recommend further treatments depending on the severity of your ingrown toenail, including surgery.

After treatment has been completed, the healing process awaits, as well as medications that may be provided to ensure there is no infection. Typically, it takes an average of 4 months for patients to see their toenail fully replaced after an ingrown toenail treatment.
When should I be concerned about an ingrown toenail?

You should schedule an appointment with one of our physicians if you begin to notice your home remedies are beginning to not work, or if you are noticing recurring ingrown toenails. We are able to diagnose and treat your ingrown toenail accordingly based on what is happening.

If you have a medical condition like diabetes or other medical conditions that cause poor circulation to the feet, you are at a much higher risk for ingrown toenails to become a complicated issue. Particularly important to schedule an appointment for ingrown toenails if you have a medical condition.

If left untreated, ingrown toenails can become infected and surgical intervention may be required. We serve patients from Bulverde Rd San Antonio TX, Windcrest TX, Selma TX, Bastrop TX, Paige TX, Smithville TX, Alamo Ranch San Antonio TX, Leon Valley TX, Helotes TX, La Grange TX, Rabbs Prairie TX, Halsted TX, Leon Springs TX, Fair Oaks Ranch TX, Cross Mountain TX, New Braunfels TX, Hunter TX, Zorn TX and surrounding areas.