Minor Eye Injuries in Children Q&A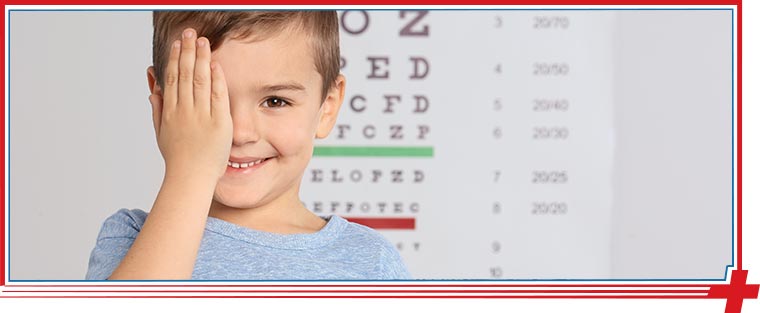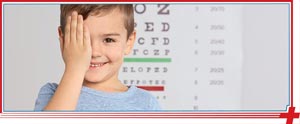 Table of Contents:
What causes eye injuries?
What are the symptoms of eye injuries?
When should I take my child to the doctor for a minor eye injury?
What causes eye injuries?

Eye injuries can be caused by any number of occurrences we encounter in our daily lives, especially for children. Sports are a fairly common source of eye injuries, particularly through the following activities: hockey, archery, darts, BB guns, bicycling, racquet sports, baseball, basketball, and boxing. In most cases, the injury is the result of a ball, stick, or other object relating to the actions of a sport coming into contact with the eye. In the case of sports with a ball or puck, these objects can become airborne and through the course of their trajectory hit the eye of a participant, typically at a high rate of speed and high impact. For sports that involve an object used to hit a ball or puck, such as a hockey stick, racquet, baseball, or lacrosse stick, these objects can accidentally contact the participant's faces, and eyes, when they are being swung in an effort to score points for their team. Eye injuries can also occur as the result of contact with chemicals, toys, fingernails and any other foreign object that kids come into contact with, such as a piece of furniture if they trip and fall.

Types of eye injuries
 
Injuries to the eye can occur on the eyelid, the area around the eye, or to the eye itself. There are many different forms of injuries that can happen to the eyes that can range from mild to severe. With eye injuries, the main concern is if the child's vision has been impacted or damaged as a result of the injury. Older children are able to let their parents know if their vision has been affected and a simple test can be performed at home to determine if the vision is blurry. In the case of younger children, they will typically need to be examined by an eye doctor who can determine if their vision has been affected by the injury. Minor injuries to the eyelid and area around the eye are usually mild cuts or lacerations that don't affect the actual eyeball or bruising around the eye referred to as a black eye. Cuts and lacerations will often heal by themselves but deeper cuts or cuts that impact the edge of the eyelid will require medical consultation and possibly stitches. A black eye will appear swollen and bruised for a few weeks, while appearing to get worse for the first few days but then will start to improve. Ice will help keep swelling down and, in most cases, no additional medical treatment is needed. On the eyeball itself, minor injuries can include subconjunctival hemorrhage, which is a red bruise on the white part of the eyeball that is caused by a scratch and typically clears up on its own, and a corneal abrasion which is a scratch on the clear part of the eye that can heal quickly but should be checked by a doctor. Serious conditions of the eyeball that require medical attention include acute hyphema caused by blunt trauma which leads to bleeding between the cornea and iris, and a punctured eyeball where the cornea or sclera has been torn by a sharp object.
What are the symptoms of eye injuries?

Eye injuries can be easy to spot when symptoms are obvious such as blood in the eyeball, bruising around the eye, cuts or scratches on the eyelid, and pain in the eye. Some other symptoms require further inspection such as changes to the shape of the iris or pupil, small scratches to the eyelid or to the cornea, and blurry vision.
When should I take my child to the doctor for a minor eye injury?

Eye injuries should be checked by a doctor, if the child won't open their eye or keeps it covered, if the eye waters non-stop or the child is blinking more than normal, a sharp object hit the eye, pupils are not equal in size if your child is less than a year or they have a cut on the eyelid or eyeball. For these cases, it is best to take your child to the nearest urgent care clinic if you aren't able to get in to see your family doctor right away. If there is bruising near the eye, or the cut is dirty and it's been more than 5 years since their last tetanus shot you should reach out to your family doctor during office hours within 24 hours of the injury to determine what treatment actions you should take. As their parent, you can also judge when you feel that your child needs to be seen and how urgent the situation appears to be.

Call us for more information. We serve patients from Bulverde Rd San Antonio TX, Windcrest TX, Selma TX, Bastrop TX, Paige TX, Smithville TX, Alamo Ranch San Antonio TX, Leon Valley TX, Helotes TX, La Grange TX, Rabbs Prairie TX, Halsted TX, Leon Springs TX, Fair Oaks Ranch TX, Cross Mountain TX, New Braunfels TX, Hunter TX, Zorn TX and surrounding areas.