Food Allergies: Causes, Symptoms & Treatment Q&A
Food allergies can produce a wide array of unpleasant symptoms and can even lead to serious health consequences. Allergy testing at Fast Aid Urgent Care can help you identify harmful allergens to avoid. For more information, please call us or join the virtual line. We have convenient locations to serve you in Bulverde Rd San Antonio TX, Bastrop TX, Alamo Ranch San Antonio TX, Leon Springs TX, New Braunfels TX and La Grange, TX.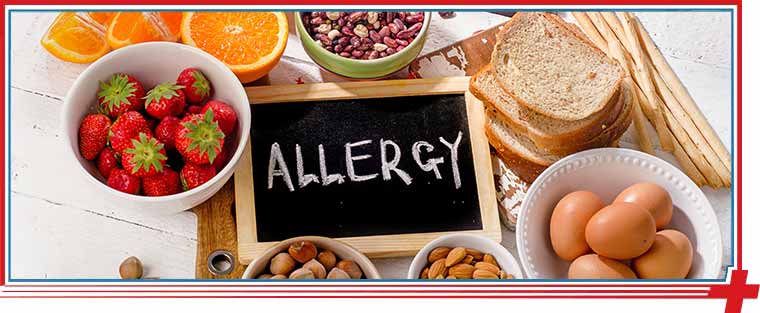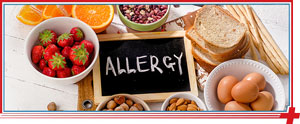 Table of Contents:
What causes a person to develop food allergies?
What are the symptoms of a food allergy?
What are the top most common food allergies?
How do I know if I'm allergic to food?
What causes a person to develop food allergies?

Food allergies are triggered by the immune system making antibodies called immunoglobulin E, or IgE, when a person consumes or comes in contact with an allergen. The IgE is then circulated through the blood and attaches itself to mast cells and basophils. After initial exposure to an allergen, the IgE antibodies previously created against the allergen may recognize it, causing an allergic reaction. When an immune response is triggered by this recognition, a severe allergic reaction may result. It is important to note, however, that some people produce IgE against certain foods without developing allergies, while others may only develop mild allergies in comparison to those who develop severe allergies.
 
Certain genetic and health factors influence the likelihood of developing a food allergy. It is more likely that someone with a food allergy or another allergic disease will develop a food allergy than someone without one. The risk of developing food allergies is also higher for young children than for older children and adults. In families where allergic diseases are common, such as food allergies, eczema, hay fever, or asthma, food allergies are more likely to develop. In addition, a person with two allergic parents has a higher risk of developing a food allergy than a person with one allergic parent.
What are the symptoms of a food allergy?

A particular food allergy may cause discomfort but not a severe reaction for some people. Other people may experience life-threatening allergic reactions to food. Symptoms of food allergies usually appear within minutes to two hours after eating the offending food. It is possible for symptoms to be delayed for several hours in rare cases.
 
Some common symptoms of food allergies include diarrhea, vomiting, nausea, and abdominal pain, as well as hives, itching, and eczema. An individual may also experience itching or tingling in the mouth, swelling of the tongue, lips, throat, face, or other parts of the body, and in some cases lightheadedness, dizziness, and fainting. Anaphylaxis is a rare life-threatening response to food allergies that can involve a tightening of the airways, shock, a rapid pulse, difficulty breathing, and more. Anaphylaxis is a medical emergency for which emergency care must immediately be sought.
What are the top most common food allergies?

It is extremely common for people to have food allergies. The number of adults living with them has risen to 6%, while the number of children has risen to 8%. In the United States, nearly 11% of adults have food allergies, according to some studies.
 
Among the most common childhood allergies, cow's milk allergies are most often noticed in babies and young children. Around 90% of children will outgrow it by the age of three, so adults are less likely to suffer from it. Egg allergies are also common in children, those are usually outgrown by age 5.
 
Tree nut allergies are associated with some nuts and seeds that come from trees. Around 1% of the U.S. population and perhaps up to 3% of people worldwide suffer from this food allergy.
 
Allergies to peanuts are very common and can result in severe and even fatal symptoms.
 
Shellfish allergies result from your body attacking proteins in shellfish, which are crustaceans and mollusks.
 
These are just a few examples of the many common food allergies an individual can develop.
How do I know if I'm allergic to food?

Although it is possible to notice certain patterns pointing toward a potential food allergy on your own, such as the development of symptoms seemingly associated with the consumption of a specific food, it is impossible to determine for sure. The only way to know if you are allergic to a food is to undergo an allergy test. Allergy tests are available at Fast Aid Urgent Care. We serve patients from Bulverde Rd San Antonio TX, Windcrest TX, Selma TX, Bastrop TX, Paige TX, Smithville TX, Alamo Ranch San Antonio TX, Leon Valley TX, Helotes TX, La Grange TX, Rabbs Prairie TX, Halsted TX, Leon Springs TX, Fair Oaks Ranch TX, Cross Mountain TX, New Braunfels TX, Hunter TX, Zorn TX and surrounding areas.