Earaches & Sore Throats (Strep) Treatment Clinic on Alamo Ranch San Antonio, TX
At FastAid Urgent Care we understand that earaches and sore throats come with a certain level of pain and discomfort, which is why we are here to help! Call today or walk-in 7 days a week to get relief.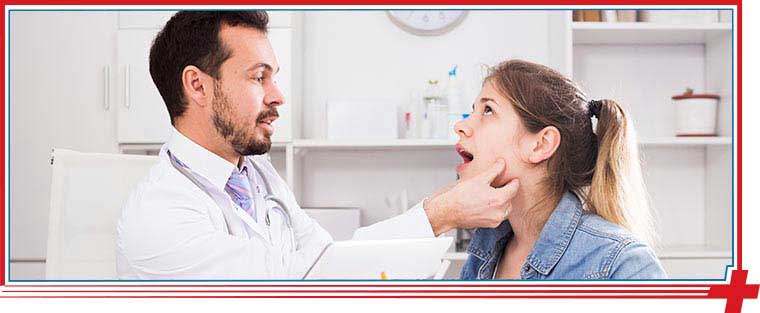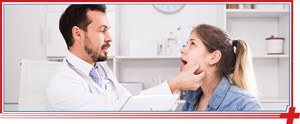 Table of Contents:
Can Strep Throat give you ear pain?
When should I go to the doctor for a sore throat and earache?
What happens if strep throat is untreated?
Is it strep or just a sore throat?
All of us experience sore ears or throats at one point in our lives. Whether they are caused by an infection, or simply dehydration, at FastAid Urgent Care, we have staff specially trained in diagnosing your discomfort and finding a solution that will help you feel better again!
Can Strep Throat give you ear pain?

Strep throat is an infection caused by a contagious group of bacteria. Strep throat is accompanied by a very painful sore throat that comes on very quickly. The bacteria from a throat infection often travels into the middle ear which can often cause an ear infection.

Other symptoms of strep throat include:

– White patches or pus on the tonsils
– Red spots on the oral pallet
– Fever
– Swollen lymph nodes in neck
When should I go to the doctor for a sore throat and earache?

Sore throats are one of the top reasons for doctor visits and sick days, due to the pain and discomfort they cause.

They often start with a persistent tickle in the back of the throat which then leads to a prickly sensation each time you swallow. The trick to treating a sore throat at home is knowing when it's time to seek the help of a professional as opposed to at-home therapies.

In most cases, at-home treatment will help your sore throat to improve. However, if you have a severe sore throat and a fever over 101 degrees that lasts longer than one to two days, you have a red rash appear, or you have difficulty sleeping because your throat is blocked by swollen tonsils or adenoids, it is time to consult a professional.

If you have any of the symptoms listed above, it could mean that you have a bacterial infection. Your doctor may want to prescribe an antibiotic to help treat your throat infection.
What happens if strep throat is untreated?

Strep throat usually isn't serious, but if left untreated, it can cause complications such as rheumatic fever (a disease that can damage the joint and heart) or even kidney problems.

The body's immune system will attack healthy tissues in response to a strep infection, causing complications such as inflammation of the kidneys, rheumatic fever, or pediatric autoimmune neuropsychiatric disorders associated with streptococcal infections.

In more serious cases, untreated strep throat may lead to rheumatic fever. If antibiotics are introduced as soon as 9 days after the start of a strep infection, this will prevent rheumatic fever.

Kidney disease may occur after being infected with certain strains of strep bacteria. These infections may include a strep infection of the skin or the throat. This condition is rare and goes away without a need for treatment. Treatment of strep infection will not necessarily prevent inflammation of the kidneys.

PANDAS is a term used to describe what happens when a strep throat or scarlet fever infection worsens symptoms of certain disorders in children. The disorders that often worsen from these conditions are tic disorders such as Tourette's syndrome and obsessive-compulsive disorder (OCD).
Is it strep or just a sore throat?

A sore throat can be caused by allergens, like pollen and dust or even food, or sometimes bacterial infections. The most common culprits, however, are flu and viral infections and will not respond to a course of antibiotics.

Symptoms include:

– A swollen, scratchy throat and tonsils
– Moderate fever
– Earache
– Moderate rash
– Lump on neck (caused by swollen glands)
– Runny nose
– Cough or common cold
– Congestion
– Difficulty breathing

Strep throat is very similar to an ordinary sore throat, but signs and symptoms do differ slightly:

– White patches in the back of the throat on the tonsils
– A sore throat with no cold symptoms such as runny nose
– Swollen lymph nodes (right below the earlobes)
– Red and swollen tonsils, sometimes accompanied by white patches or streaks
– Tiny red spots on the back of the roof of the mouth
– Difficulty swallowing or breathing
– Headaches
– Ear infections
– Nausea or vomiting
– An extreme rash, known as Scarlet Fever
– Rheumatic fever

If these symptoms last more than two days, you might have strep.

If you are experiencing a sore throat or pain or discomfort in the ears, come to FastAid Urgent Care, where we have experts trained in treating ears, noses and throats! Contact our office today to get in touch with a specialist. To join the virtual line, call us or visit us online!