Mark Wilson, FNP / BC at Fast Aid Urgent Care Clinic on Bulverde Rd, Alamo Ranch Pkwy in San Antonio, TX and Bastrop, TX
Mark Wilson, our proud team member who has served in the Navy for 10 years, and now he dedicatedly proves his services to patients with Fast Aid Urgent Care. For more information about our staff and services, call us.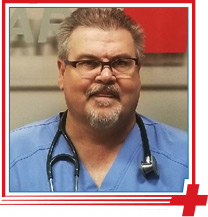 My Philosophy in healthcare has always been to do the right thing for the patient even when it is the hard thing to do. My journey in health care began after I was honorably discharged from the Navy where I served for 10 years. I went to college at the University of Texas at San Antonio for 2 years and graduated from The University of Texas Health Science Center with a Bachelor of Science Degree in Nursing. For the next 10 years I worked in hyperbaric medicine, critical care and emergency medicine. It was at this time I decided to pursue an advanced degree as a Nurse Practitioner.
I attended the University of Texas Health Science Center at San Antonio and earned a Master of Science Degree as a Family Nurse Practitioner, with a minor in administration. As a Family Nurse Practitioner I have worked in endocrinology, family medicine, emergency medicine and finally in urgent care. I enjoy working FastAid Urgent Care where the staff and owners believe in delivering outstanding care where the patient's time and convenience are a priority.
When I am not working I enjoy spending time with my wife of 35 years, my two children and 3 grandchildren. My hobbies are golf, being outdoors and hiking.