Joshua Keller, FNP at Fast Aid Urgent Care Clinic
Meet Joshua Keller, FNP, our dedicated professional who aims to provide a better experience for his patients at Fast Aid Urgent Care Clinic. For more information about our staff and services, please 

contact us

 or join the virtual line. We have convenient locations to serve you in Bulverde Rd San Antonio TX, Bastrop TX, Alamo Ranch San Antonio TX, La Grange TX, New Braunfels TX and Leon Springs San Antonio TX.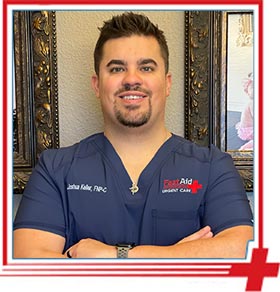 Joshua Keller
What is the educational background of Joshua Keller, FNP?
Joshua Keller was raised in San Antonio TX and attended UT Health San Antonio. He started off as an RN in multiple busy ERs, including a Level 1 Trauma Center. After years of working as an RN, Joshua went back to school to become a Nurse Practitioner where he remained working in ERs in San Antonio, New Braunfels and San Marcos TX. Joshua has been working in Urgent Care now for 4 years and loves the change in environment that goes along with it. Joshua has a combined total of more than15 years experience in the ER and now Urgent Care. 
What is Joshua Keller, FNP passionate about?
Joshua loves Fast Aid Urgent Care and loves making what is a normally stressful and uncomfortable time, a better experience for his patients. He takes pride and believes in bringing high-quality and compassionate care without the typically long wait times of other urgent cares. Joshua takes pride in treating you and your family the way he would treat his own. 
What are the interests of Joshua Keller, FNP?
Joshua resides in New Braunfels with his wife and 3 beautiful girls. When he is not working, he loves spending quality family time with them. Joshua loves sports of all kinds, including the Spurs, Cowboys, Astros, TX Longhorns and LSU tigers.