Chelsea Jecmenek at Fast Aid Urgent Care Clinic on Bulverde Rd, Alamo Ranch Pkwy in San Antonio, TX and Bastrop, TX
Meet Chelsea Jecmenek. She is our compassionate family medicine practitioner, who also has experience in orthopedics, and urgent care services. For more information about our staff and services, call us.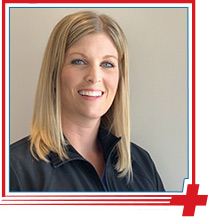 Chelsea Jecmenek was born in Sioux Falls, SD and attended South Dakota State University where she earned her Bachelor Degree of Science in Athletic Training. She then went on to serve as a Graduate Assistant Athletic Trainer at Louisiana Tech University while earning her Master of Science in Exercise Physiology. After a year of working in a physical therapy clinic, Chelsea went on to earn a Master in Medical Science in Physician Assistant Studies graduating from Our Lady of The Lake College in Baton Rouge, LA in 2013. Chelsea has gained experience in Family Medicine, Orthopedics and Urgent Care. She enjoys Urgent Care and working at FastAid because she says "It is a company that values their employees and truly does what is best for the patient above all else." Chelsea is married and lives in La Grange, TX.